Posted by QC on 19th Feb 2018
Perfect the Double Swab Technique with These

The Double Swab technique has been utilized for years by thousands of forensics professionals. We have just the right swab to perfect this technique. Here's how to get started:

SUPPLIES NEEDED:
1. Sterile cotton swab (2/pk)
2. Sterile water
3. Swab box

TECHNIQUE:
Drip sterile water on the applicator of the first swab to thoroughly moisten the tip (approx. 10 drops). Roll the swab head over the stain using circular motions and medium pressure to "wash" the stain from the surface. Place this swab in the swab box to thoroughly air dry ( approx. 30 minutes).

Within 10 seconds of completing the first swab procedure, roll the dry tip of the second sterile swab over the area that is still wet from the first swab. Use circular motions with light pressure to "absorb" the moisture from the skin on to the swab head. Place this swab in the evidence box to thoroughly air dry (approx. 30 minutes). Since the two swabs come from the same site, they can be combined into a single exhibit. Both swabs can be placed in the same swab box for submission to the laboratory.

Our Sterile Cotton Tipped Applicator is crafted for the collection of fragile evidence such as blood, saliva, latent print residue, or other physiological fluids, ensuring the integrity of each sample. They are packed two per package which allows users to quickly move from wet to dry sampling. The Sterile Cotton Tipped Applicator is a featured product in our SWAB18 promotion. Add it to your purchase of $100 or more and get this t-shirt for free.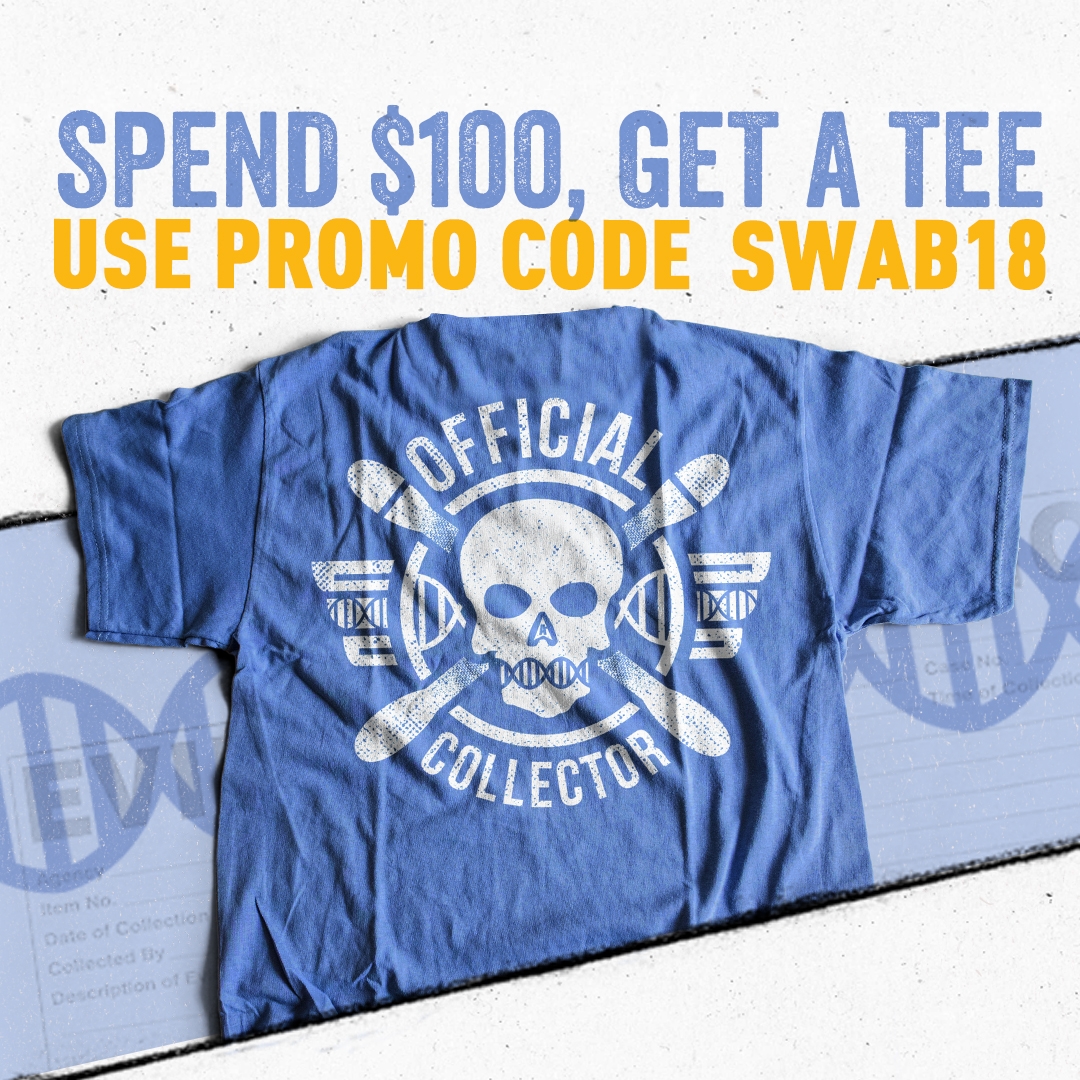 APPLICATIONS:
Saliva Collection
Touch DNA Collection
Physiological Fluids Collection
Blood Collection

BENEFITS:
Individually wrapped in pairs
Lot number on each package
Wood stem
Fits perfectly in suspended or pop up swab boxes
Reference:
Sweet DJ, Lorente M, Lorente JA, Valenzuela A and Villanueva E, An Improved Method
to Recover Saliva from Human Skin: The Double Swab Technique, Journal of
Forensic Sciences 1997; 42 (2): 320-22.